Wolfgangdigital heeft een heel interessant onderzoek gedaan over de digitale marketing industrie in de retail branche. Met data van Facebook analytics, Google analytics en hun eigen onderzoek onder Facebook gebruikers hebben ze hele interessante informatie gevonden over de wereld van online marketing en het gedrag op websites. We geven je hier een overview wat voor webwinkeliers belangrijk is, zoals de waarde van een Facebook like.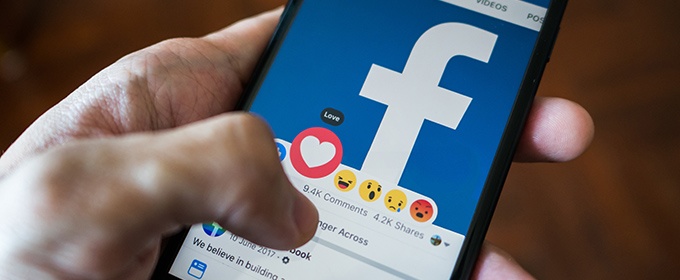 Welke bronnen genereren de meeste traffic en omzet?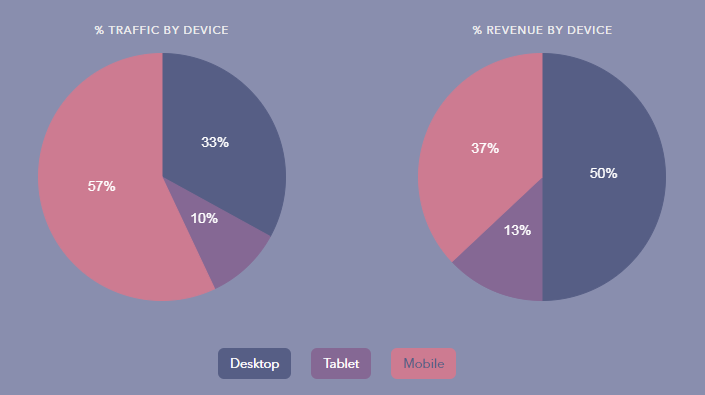 In de retail branche is het duidelijk dat de meeste traffic komt van smartphones. Maar toch een derde van het verkeer komt bij desktops vandaan. Wat hierbij interessant is om te zien, is dat er meer omzet wordt gehaald uit bezoekers die een desktop gebruiken. Mobile ligt hier een stuk lager.
Dit zou kunnen liggen aan het feit dat mobiele online shoppers gemiddeld een lager conversieratio hebben dan mensen die via een desktop kopen. Dit betekent echter niet dat je desktop nu de volledige prioriteit moet geven, er komt namelijk nog steeds veel verkeer naar je website via mobiel. Veel mensen zullen ook je website via mobiel bezoeken en pas later via de desktop iets kopen.
Mobiel is en blijft voorlopig nog heel erg belangrijk, zorg dus echt dat je website helemaal responsive is.
Website engagement

In de afbeelding hierboven zie je het gemiddelde gedrag van bezoekers van een webshop, maar ook de gemiddelde prestaties van webshops. Het valt op dat webshops vaak een redelijk hoge laadtijd hebben, dit zou eigenlijk maximaal rond de 3 seconden moeten liggen. Hoe sneller je webshop is, hoe beter.
De gemiddelde bounce rate van ongeveer 40% ligt erg goed. De bounce rate is het percentage van bezoekers die op één van je pagina's landen en dan direct je webshop verlaten, zonder naar een andere pagina te gaan. Natuurlijk wil je dit zo laag mogelijk houden, maar rond de 40% is helemaal niet slecht.
Je zou voor jouw webshop deze richtlijnen moeten aanhouden. Als je merkt dat op sommige punten je erg uitschiet, dan weet je dat je op dat vlak moet optimaliseren voor een ultieme ervaring voor de klant.
Hoeveel is een Facebook like nu echt waard?
2018 was geen makkelijk jaar voor Facebook en ze hebben veel actieve gebruikers verloren vergeleken met andere jaren. Maar nog steeds is Facebook één van de populairste online marketing tools voor webwinkeliers en daarbij wordt steeds gezegd dat Facebook likes belangrijk zijn.
Dan de grote vraag die je jezelf misschien wel eens hebt gesteld: hoeveel is een Facebook like nu echt waard?
Antwoord

: 3% van je gemiddelde orderwaarde!
Wolfgangdigital heeft uitgezocht dat 3% van de mensen die je bedrijfspagina volgen ook een product bij je zullen kopen in je webshop. Dit conversieratio gaat echter omhoog naar 4% als iemand een post deelt. Naar 4,67% bij een like op een post, 4,9% voor een reactie en als de Facebook gebruiker de tijd neemt om je privé bericht te sturen dan gaat het percentage omhoog naar 9,95%! De verhoging van het conversieratio gaat samen met hoeveel tijd iemand besteed aan de engagement.
Het aloude gezegde 'Tijd = Geld' is heel erg van toepassing voor social interactie.
Social survey findings
Naast de cijfers van Google en Facebook heeft Wolfgangdigital ook een survey gedaan bij een panel van 300 internetgebruikers en hun gedrag met online shares. Dit is wat zij zeiden: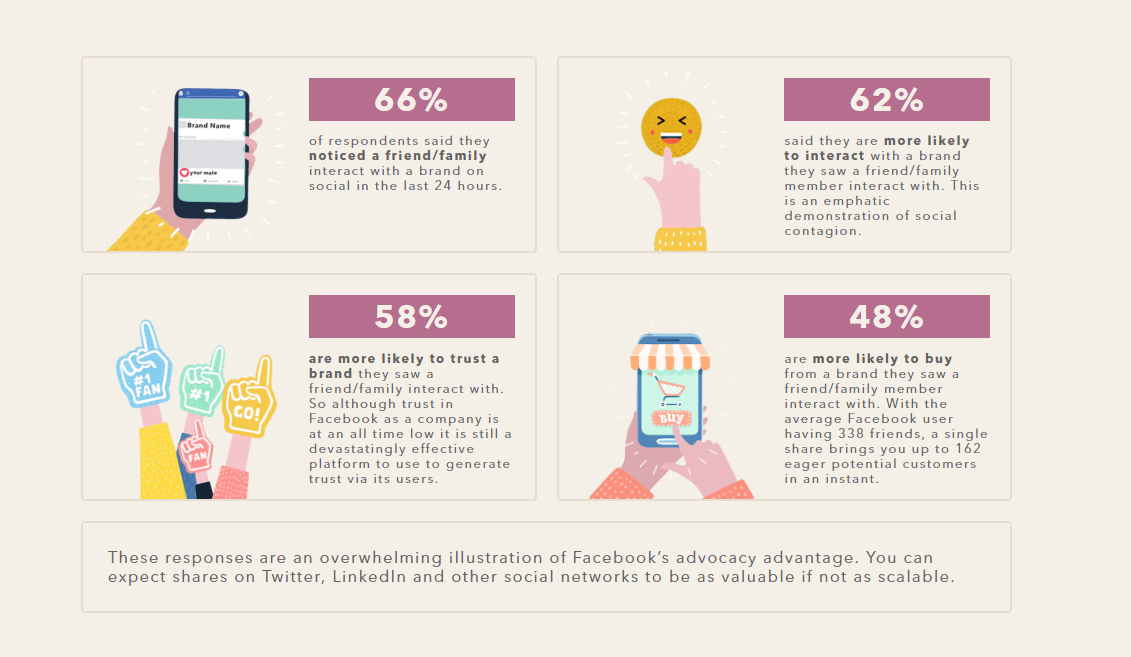 Het delen van berichten heeft dus echt effect voor het aantal verkopen dat je genereert. Bijna 50% van de ondervraagden geeft aan eerder geneigd te zijn om iets te kopen van een merk waar een van hun vrienden mee in aanraking is geweest op Facebook.
Wat doen goed converterende webshops anders?
De 3 belangrijkste resultaten van het onderzoek, wijzen allemaal naar 1 ding. De best converterende websites moeten hun bezoekers steeds opnieuw naar hun website lokken. Als resultaat lopen deze webshops ver voor op de 'one-click-wonder' concurrenten.
De 3 resultaten waar dit onderzoek op uitgekomen is, zijn:
1. Het aantal sessies per bezoeker gaat samen met de omzet
De websites met de hoogste omzet hadden ook het hoogst aantal sessies per gebruiker over 12 maanden. Dit betekent dat hoe vaker bezoekers terug komen naar je website, hoe groter de kans is dat ze iets kopen. Deze correlatie die hier gevonden is, is heel erg sterk.
2. Het percentage van Direct Traffic hangt samen met het conversion percentage per sessie en per gebruiker
Direct Traffic hangt nauw samen met terugkerende bezoekers en 'Dark Traffic'. Focus op je bezoekers een reden te geven om terug te keren, of om het online met hun vrienden te delen. Dit helpt je conversie ratio én omzet te verhogen. Dit is dus nog een punt dat bevestigd dat terugkerende bezoekers heel erg belangrijk zijn.
3. Het percentage van de omzet van re-marketing hangt samen met omzet groei
Richt je op manieren om mensen opnieuw in interactie te brengen met jouw website door middel van re-marketing. Dit helpt echt bij het verhogen van je omzet, helemaal als je actief bent in de reisbranche.
Cross-channel of Omnichannel re-targeting is dat je advertentie of bericht zich aanpast aan het touchpoint binnen de customer journey. Ga dus niet constant hetzelfde bericht delen, daar worden mensen niet vrolijk van, maak het een logisch verhaal voor hen.
Conclusie
Het feit dat alle 3 de belangrijkste conclusies van dit onderzoek uitkomen op het aantrekken van bestaande klanten. Het creëren van nieuwe punten waarmee de consument met jouw merk in aanraking komt is het slimste wat een marketeer kan doen in dit nieuwe jaar.
Om jezelf helemaal vertrouwt te maken met begrippen en statistieken, zou je onze whitepaper moeten downloaden over Google Analytics. Download hier gratis: