Iedereen wat dat mond-tot-mond reclame de beste manier is van adverteren. Affiliate marketing is de evolutie hiervan. Het is eigenlijk de bredere en digitale vorm van op deze manier adverteren. Affiliatie marketing is er al voor een aantal jaren en veel online bedrijven gebruiken dit systeem om meer verkopen te genereren. In dit artikel praten we over wat affiliate marketing is en hoe jouw webshop ervan kan profiteren.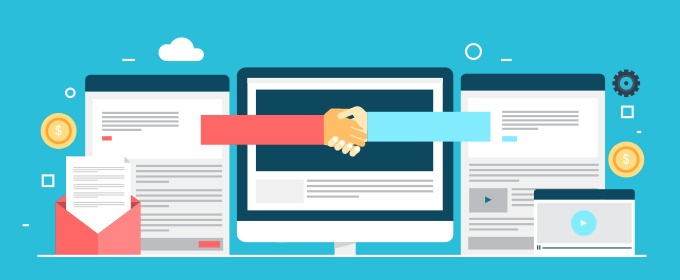 Wat is affiliate marketing?
Affiliate marketing is dat je een vergoeding betaalt aan mensen die bijvoorbeeld links van jouw producten delen en waar een verkoop uit voort komt. Dit klinkt misschien verwarrend, maar het concept is redelijk eenvoudig. Als je bijvoorbeeld borden verkoopt, zou je een aantal unieke links moeten maken die op jouw productpagina terechtkomen. Vervolgens kan bijvoorbeeld een kok die link delen op hun website, in een video of op een andere manier. Omdat de links uniek zijn, kan je achterhalen wie welke klant binnen heeft gehaald. Zo kun je de kok een beloning geven voor het delen van je link.
Klinkt goed toch? Deze bloggers en influencers hebben dus jouw product gedeeld met hun publiek. Als deze promotie leidt tot een verkoop krijgen zij dus een vergoeding. Je kunt het vergelijken met als je bijvoorbeeld een freelancer inhuurt. Sommige influencers zijn zo populair dat ze speciale websites opzetten voor affiliatie producten. thisiswhyimbroke.com is hier een heel goed voorbeeld van.
De gemiddelde waarde van een commissie ligt tussen de 5% en 30%, deze aantallen kunnen variëren aan de hand van de branche en de prijs van het product.
Ook, met dank aan cookies, kunnen marketeers die hun links delen met anderen hun beloning ophalen tot 30 dagen nadat de verkoop voor het eerst op de link heeft geklikt. Het idee is hier dat de consument soms op de link klikt, maar een aantal dagen later pas het product koopt. Omdat dit vaak gebeurt, kunnen marketeers zo toch nog hun beloning krijgen.
Veel grote spelers maken gebruik van deze strategie, ook Bol.com en Amazon. Online shops in elke industrie kunnen gebruik maken van deze techniek.
Hoe vind je marketeers om jouw webshop te promoten
Gelukkig zijn de technische aspecten van affiliate marketing eenvoudig. Er zijn best een aantal affiliate partners. Deze websites leggen de connectie tussen retailers en affiliatie marketers. Je kunt je product online posten en marketeers kunnen zelf een link genereren en op hun website plaatsen. Een aantal bekende partners zijn Gumroad en GetDPD.
Voordelen van affiliatie marketing
Het mooie aan affiliate marketing is dat de bloggers en influencers jouw producten aanbieden aan (als het goed is) dezelfde doelgroep als jij hebt. Als een influencer een product deelt, straalt je advertentie automatisch meer betrouwbaarheid uit. Dit is helemaal het geval bij niche markten met unieke producten.
Een ander groot voordeel van affiliate marketing is het relatief lage risico. Als retailer betaal je niets aan een partner, totdat hij of zij daadwerkelijk een verkoop heeft gerealiseerd. Je verdiend dan wel iets minder aan het product, aangezien je een deel ervan moet afstaan, maar je bereikt potentiële klant die je anders waarschijnlijk niet had kunnen bereiken.

Affiliate marketing is een gewoon andere vorm van marketing. Dit systeem biedt een beloning aan bloggers en influencers die jouw product promoten. Het feit dat je pas iets betaalt als er daadwerkelijk een verkoop wordt gerealiseerd, is zeker de moeite waard om het eens uit te proberen.
Kom meer te weten over affiliate marketing en download gratis onze whitepaper: