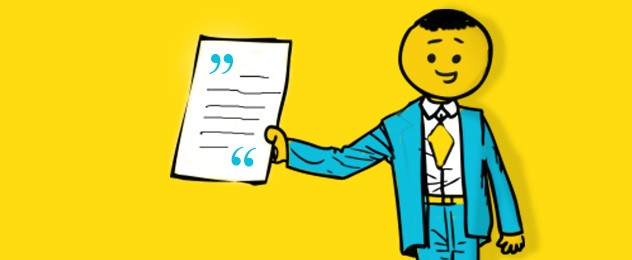 Als winkelier ken je je klanten het beste en weet je welke manier van aanspreken het beste werkt. Daarom kan je de tekst in je beoordelingsmails nu zelf opstellen in je Trusted Shops backend. Bovendien hebben we in september de Net Recommendation Score toegevoegd, waarmee je kunt meten of klanten je bij anderen zouden aanbevelen.
Individueel vormgegeven beoordelingsmails zijn bijzonder, omdat je je op deze manier van de concurrentie kunt onderscheiden en je klanten op de perfecte manier kunt benaderen. Je kunt zowel de tekst als de lay-out van het e-mailbericht aan je online business aanpassen, om je klanten vanaf het eerste bezoek tot de beoordeling een uniforme 'customer journey' te bieden.
Deze feature maakt het voor jou mogelijk om zonder extra technische vereisten je beoordelingsmails zelf vorm te geven in je My Trusted Shops account, welke wij vervolgens via de Trustbadge naar je klanten versturen.
De vormgeving van de beoordelingsemails is op de volgende manieren te personaliseren:
Tekst opstellen voor het onderwerp, de titel, de inhoud van het e-mailbericht en de beoordelingsknop

Shop-logo uploaden

Kleur van de beoordelingsknop selecteren
In een voorbeeld kan je de wijzigingen bekijken voordat je definitief besluit om deze over te nemen. Uiteraard is het aanpassen van de vormgeving optioneel. Als je niets instelt, zullen we de Trusted Shops versie van dit verzoek verzenden, welke op basis van vele testen werd geoptimaliseerd.
De instellingen kan je wijzigen via je My Trusted Shops, onder de optie 'Beoordelingen – Configuratie - Beoordelingen verzamelen'.
Je aanbevelingsscore effectiever meten
Tot op heden kon je voor je shop de beoordelingssterren en opmerkingen van de klanten verzamelen. Door het toevoegen van de Net Recommendation Score aan je beoordelingsformulier, kanje nu ook intern analyseren hoe waarschijnlijk het is dat je klanten je online shop aan vrienden en bekenden zullen aanbevelen. Hiervoor is een schaal van 0-10 van toepassing.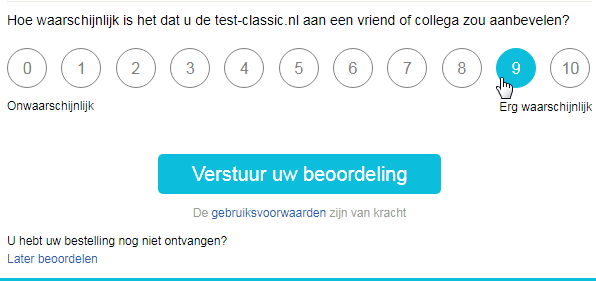 In slechts drie stappen meet je of je klanten je aan anderen zouden aanbevelen:
#1 - Activeer de functie 'Net Recommendation Score' in je My Trusted Shops onder de optie 'Beoordelingen – Configuratie - Beoordelingen verzamelen'.
#2 - Op je beoordelingsformulier verschijnt nu, naast de sterren en het veld voor de opmerkingen, ook de vraag of klanten je shop aan anderen zouden aanbevelen. De waarschijnlijkheid daarvoor wordt door gebruikers aangegeven door middel van een cijfer, uiteenlopend van 0 voor 'Niet waarschijnlijk' tot 10 voor 'Zeer waarschijnlijk'.
#3 - Je kunt de Net Recommendation Score van je shop bekijken in My Trusted Shops onder 'Beoordelingen – Shopbeoordelingen – Totale beoordeling'.
Conclusie
Maak gebruik van de mogelijkheid om op een eenvoudige manier te meten of klanten je shop aan anderen zouden aanbevelen. Deze gegevens worden nergens gepubliceerd, maar dienen uitsluitend voor een interne analyse.
Leer nog meer over Trusted Shops in onze whitepaper! 5 dingen die je nog niet wist: