Naarmate meer beoordelingen in je webwinkel beschikbaar zijn, zullen deze meer vertrouwen in je bedrijf teweegbrengen. Om dit effect te versterken, is het nu mogelijk beoordelingen van andere aanbieders kosteloos te importeren naar Trusted Shops. In een paar stappen verzamel je alle beoordelingen van je webwinkel op een plek.
Trusted Shops biedt je diverse mogelijkheden aan om beoordelingen te verzamelen. Juist in het begin kan het nuttig zijn ook recensies van andere aanbieders te importeren om het aantal beoordelingen snel op te voeren. Dit loont ook de moeite voor bedrijven die nog maar kleine aantallen bestellingen boeken en van elke individuele beoordeling zouden willen profiteren.
Honderd worden er tweehonderd
De import is natuurlijke ook nuttig voor shops die al op diverse manieren een groot aantal beoordelingen hebben verzameld en deze bij één aanbieder zouden willen verzamelen en publiceren. Het maakt per slot van rekening een verschil of ze honderd of tweehonderd beoordelingen kunnen presenteren. Een hoger aantal is een indicatie dat je al een gevestigde partij in de markt bent en dat je actief ingaat op de meningen van uw klanten.
Leer hoe je het beste op negatieve beoordelingen kunt reageren, download onze whitepaper nu!
De recensies laten zich perfect integreren
De geïmporteerde beoordelingen verhogen het totale aantal gepubliceerde recensies op je website en in het beoordelingsprofiel. Zij worden echter niet meegerekend in de totale score van je shop, omdat verschillende aanbieders verschillende berekeningswijzen hanteren die niet op een transparante manier gepresenteerd zouden kunnen worden. De kern van de beoordelingen, de geschreven commentaren, laten zich echter perfect in het overzicht van klantencommentaren invoegen met de bescheiden opmerking "Geïmporteerd van...".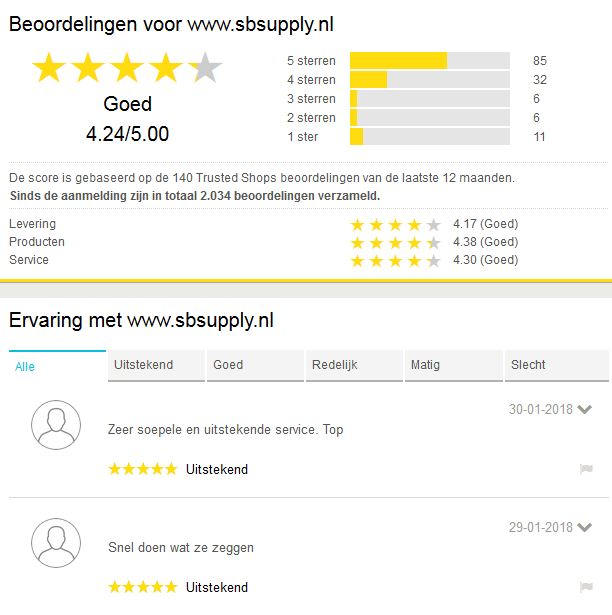 Drie voorwaarden voor de kosteloze import
Trusted Shops staat voor authentieke beoordelingen die consumenten een meerwaarde bieden. Daarom importeren wij alleen recensies uit serieuze bronnen. De import is eenmalig mogelijk (minimaal 300 beoordelingen) en vindt kosteloos plaats in het kader van je lidmaatschap. Er moet aan drie voorwaarden worden voldaan om recensies van derde aanbieders in het Trusted Shops-beoordelingsprofiel te kunnen laten verschijnen:
Google-gecertificeerde aanbieders: Om een minimumniveau met betrekking tot de kwaliteit en betrouwbaarheid van de beoordelingen te garanderen, importeren wij alleen beoordelingen van aanbieders die ook voor Google Shopping toegelaten zijn. Daartoe behoren echter de meeste bekende en gangbare aanbieders. Hier kun je nagaan of je aanbieder ook een Google Certified Partner is.

Licentiebevestiging ondertekenen: We hebben een schriftelijke bevestiging van je nodig dat je een licentie van de betreffende aanbieder hebt om op andere platformen te werven met de verzamelde recensies. Wij hebben daarvoor een standaard formulier voor je voorbereid. Wanneer je niet zeker weet of je over de vereiste licentie beschikt, raden wij je aan dat bij je aanbieder na te vragen.

Beoordelingsparameters beschikbaar stellen: Om de beoordelingen correct weer te geven, hebben we je TS-ID, de totaalscore van elke beoordeling, de commentaartekst, het bestelnummer en de besteldatum van de consument nodig.
Contact opnemen en importeren!
Hebben we je weten te inspireren om je aantal beoordelingen op deze manier de hoogte in te laten schieten, of heb je hier nog vragen over, dan horen we graag van je!