Pasen komt er weer aan en je wilt waarschijnlijk jouw webshop onder de aandacht brengen met een leuke actie. Je verkoopt misschien geen chocolade, maar je wilt je klanten wel informeren over het feit dat het een nieuw shoppingseizoen is. Je hebt misschien niet een heel groot marketing budget dat je kunt besteden aan zo'n Pasen actie zoals de grote spelers dat hebben. Daarom hebben we 5 betaalbare marketingideeën voor je op een rij gezet.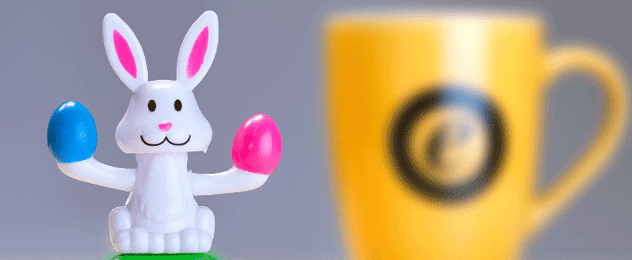 Zorg ervoor dat je nieuwsbrief een vleugje Pasen uitstraalt
Als je een nieuwsbrief verstuurt, is dat een goede plek om bepaald product of een interessante actie onder de aandacht te brengen.
Het kan zijn dat je een actie rondom Pasen organiseert of dat je een product voor Pasen in de schijnwerpers wilt zetten. Zorg er dan voor dat dit in de eerste regel van het e-mailbericht duidelijk naar voren komt.
Als je niet een speciaal product verkoopt of een actie hebt, zorg er dan voor dat de e-mail er in ieder geval visueel goed uit ziet. Een nieuwsbrief met een leuke Pasen lay-out kan je klanten helpen herinneren dat het bijna Pasen is en dat ze hierover gaan nadenken.
Afhankelijk van de software die je gebruikt om je e-mailcampagnes te beheren, kun je op de website van de provider of ontwikkelaars van een derde partij, plug-ins vinden. Vele ontwikkelaars van een derde partij, zoals Magento, bieden creatieve opties voor een acceptabele prijs.
Je website opfleuren
Hetzelfde concept kan ook werken voor je website. Rondom alle belangrijke feestdagen zal je serviceprovider je hoogstwaarschijnlijk een aantal plug-ins voor je website aanbieden. Het aan je website toevoegen van een kleine extra, kan je klanten in de juiste sfeer brengen om te gaan shoppen. Iets heel eenvoudigs kan een groot verschil maken, zoals een aantal op Pasen gebaseerde foto's.

Als je nog een stap verder gaat, kun je zelfs op je website een zoektocht naar paaseieren opzetten. Dat is een slimme manier om aan je klanten een korting aan te bieden. Het feit dat de klant je gehele website moeten doorbladeren om op zoek te gaan naar de paaseieren, is het slimste van allemaal.
De klant gaat dan namelijk ook naar pagina's waar ze anders niet op gekeken zouden hebben. Zodra ze alle eieren hebben gevonden, gaan ze direct naar een pagina waar een kortingscode wordt weergegeven. In combinatie met je op Pasen gebaseerde nieuwsbrief, zal de traffic (en je conversies) vast en zeker stijgen. Plug-ins van bijvoorbeeld Wordpress zijn goedkoop en in het algemeen eenvoudig om te integreren.

Synchroniseer een campagne op social media
Het gaat nu al op een echte campagne lijken. En wat is een goede campagne zonder social media? Probeer je pagina's en posts op social media met de samenhang en uitstraling van je website en nieuwsbrief te synchroniseren. Als het niet eenvoudig is om een zoektocht naar paaseieren op je website te integreren, kan het een betere optie zijn om deze in je posts op social media op te nemen.
Vergeet niet om je volgers aan deze winactie te herinneren. Op deze manier zullen ze je posts vaker gaan bekijken. Probeer ook een aantal leuke foto's te krijgen (het liefst met mensen) van de producten die je promoot.
Maak gebruik van hashtags, informeer over een mogelijke speciale verkoop of kortingscodes, of over andere zaken waarvan je denkt dat het relevant is. Een goede campagne op social media heeft een bepaalde vorm van persoonlijkheid, dus aarzel niet om creatief te zijn!
Organiseer een winactie
Social media is speciaal omdat het de enige manier is waarop je klanten (en potentiële klanten) direct en openbaar interactie met het bedrijf kunnen hebben. Dat is de reden waarom het organiseren van een winactie een hele goede manier kan zijn om je doelgroep te stimuleren om actie te ondernemen.
Het maakt niet uit of het nu een zoektocht naar paaseieren betreft, een actie voor de beste selfie, of 'schrijf een leuke tekst bij deze foto'. Al dit soort acties kunnen een echte band creëren tussen het merk en de doelgroep. Vergeet echter niet om de actie in alle bovengenoemde media onder de aandacht te brengen. Het is zelfs mogelijk dat je hierdoor meer volgers krijgt.
Maak gebruik van betaalde advertenties
Het kan ook de moeite waard zijn om gebruik te maken van betaalde advertenties op social media. Dit kan heel goed werken. Je kunt je advertentie exact op je doelgroep richten, terwijl je tegelijkertijd ook richt op het onderwerp van de campagne (zoals Pasen).
Maak de advertentie, stel een budget in en controleer regelmatig wat dit oplevert. Je zou zelfs kunnen overwegen om meerdere advertenties tegelijkertijd uit te zetten, zodat je kunt testen welke advertentie de meeste kliks oplevert (ook wel bekend als A/B testen). Daarna ga je monitoren, optimaliseren en aanpassen. Deze strategie kan (en zou) ook buiten de periode rondom de feestdagen (moeten) worden gebruikt.
Conclusie
Er zijn veel manieren waarop je als eigenaar van een kleine onderneming, je online shop tijdens de drukke shoppingseizoenen onder de aandacht kunt brengen. Het is belangrijk om vooruit te plannen en promoties en campagnes rondom 'het bewust zijn van de feestdagen' een aantal weken eerder te organiseren.
Een aantal kleine 'extra's' op je website, gecombineerd met een goede campagne op social media en wat plezier, kunnen aan je shop net dat beetje extra aandacht geven die je graag wilt zien, zonder dat het je te veel geld of inspanning kost.
Blijf op de hoogte van alles rondom e-commerce en schrijf je in voor one nieuwsbrief!